I have come a long way in the past five years.  Before I had kids, my husband and I ate out almost every meal…I HATED to cook!  I tell more about that here.
Anyway, I got to the breaking point where I needed help.  I called my friend, Gretchen of Magnificent Mayhem, to help me with understanding meal planning.  She literally taught me all that I know about it. See her four-part series on menu planning here.
So one thing she taught me was to get really good at some core recipes that I could put on a regular rotation.  These cheesy chicken enchiladas are one of my husband's favorites.  I have tried several variations, but this is what I have settled on as my best recipe.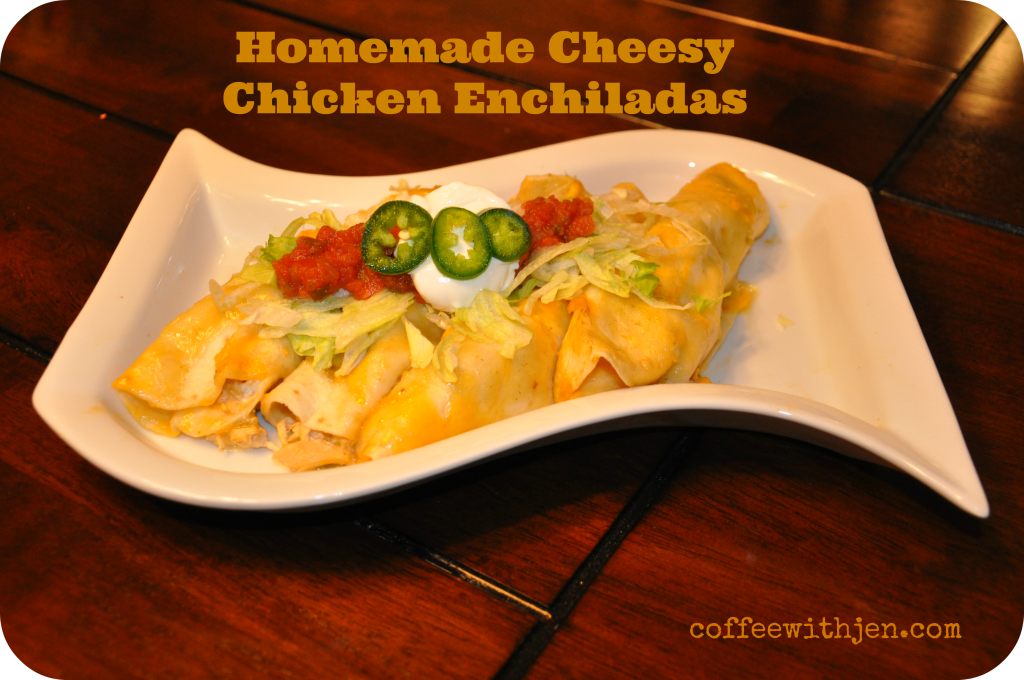 What You Will Need:
1 and 1/2 lbs of chicken
taco seasoning (I prefer chicken taco seasoning, but had the original on hand.)
chicken broth
4 oz of cream cheese
7 oz can of chopped green chilies
10 oz of mild green enchilada sauce
cheddar cheese
lettuce, sour cream, salsa, and jalapeños to top (optional)
flour tortillas
Pre-heat oven to 350 degrees.
Boil chicken in chicken broth and taco seasoning.  After cooked, shred chicken and return to the broth mixture.  Simmer for 20-30 mins.  This helps the seasoning permeate the chicken.  The quality of chicken makes or breaks this dish!
After the chicken is done, drain the broth mixture.  Add cream cheese and chilies.  Continue stirring until the cream cheese melts and is well mixed.
Spray cooking spray to coat casserole dish.  Fill tortillas with chicken mixture and add cheese.  Roll and face fold down.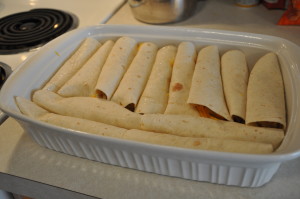 Pour can of mild green enchilada sauce on top of the casserole and sprinkle with cheese…there can never be enough cheese. 🙂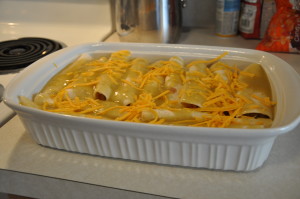 Cover with foil.  Bake for 25-35 minutes or until bubbling.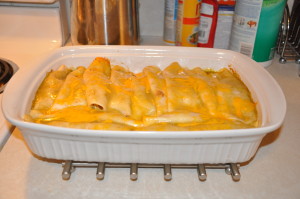 *Notes:
I usually make this ahead of time and store in the fridge.  It makes for a less stressful evening when I can just pop it in the oven at the end of the day.
I usually double the recipe and freeze one casserole.  If I am going through all that effort, it is just as easy to do two and have an extra meal prepared for another time.
Sometimes I reserve a little of the enchilada sauce and on low heat whisk in a couple tablespoons of sour cream to make a yummy sour cream sauce.
My husband thinks that the leftovers are better than the fresh…and he isn't big on leftovers.
What are some meals that are on your regular rotation?