I love a good giveaway, don't you?  When I experience something great, I want to share it!  This giveaway contest is for a book that has truly been a blessing to me.  See below how to enter.
This past summer I had a chance to go hear Lysa TerKeurst.  I had never heard of her before so I decided to get a book of hers to read before the conference.  The book was What Happens When Women Walk in Faith.  It was amazing!  I read it before the conference and then quickly started on her newest book: Unglued.  I feel that I can really identify with this author.  She is authentic.  She doesn't speak with a tone of an expert, but rather as a friend.
My cousin and I had an opportunity to speak with her at the meet-and-greet. Lysa and her publicist encouraged me in my ventures in my ministry at Mosaic of Moms.  After reading the book and meeting Lysa, my co-admin and I at Mosaic of Moms decided to start a bible study working through this material. We have twelve women who have been faithfully meeting (in real life!) once a week this fall.  It has been awesome!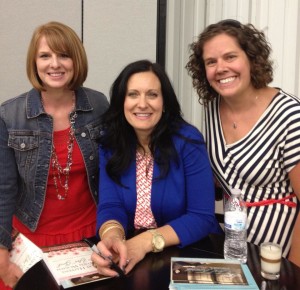 So what is the book about?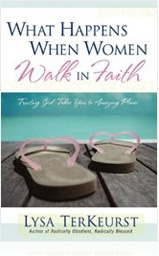 This book challenges you seek God's purpose for your life.  Do you know you have a specific purpose?  Do know that He has put a calling on your life?  He has!  He wants you to seek Him with all of your heart, to enter in sweet fellowship with Him, and walk in obedience.
The book takes you through the story of Abraham and teaches you to recognize the phases each person passes through to realize their calling.
Aren't you curious?  Doesn't that sound amazing?  It is!
So, do you want a copy for yourself?  Of course you do!  See how to enter below.  If you don't win, do yourself a favor and get a copy.  You won't be disappointed
*Notes: Shipment will only be made within the continental 48 states.  This book was provided by coffeewithjen.com and is not a paid endorsement.