"Here is a boy with five small barley loaves and two small fish, but how far will they go among so many?" John 6:9
My life is a small life. I live in a small house. In a small neighborhood. In a small town. In a small state.
My husband and I have a small bank account. A small budget.
My job is to take care our small children. I teach a small group of pre-schoolers and a small group of women at bible study.
I write for a small blog.
Small does not equate insignificant.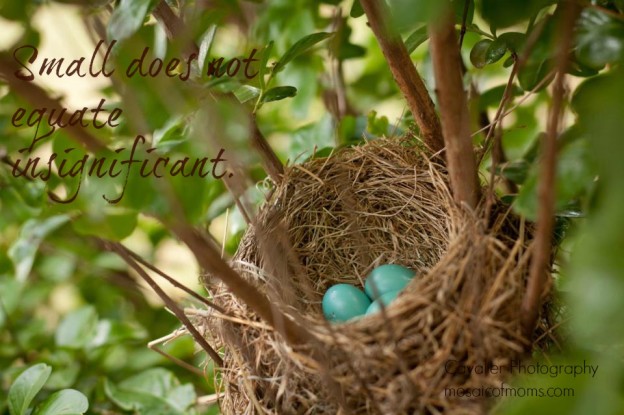 I find myself sitting in this small nook in the corner of my small kitchen, and I think of the small boy with the small fish and the small loaves. He gave his small offering. The LORD turned it into a big meal with big time leftovers.
The recurring lesson for me this summer was "be faithful in the little things".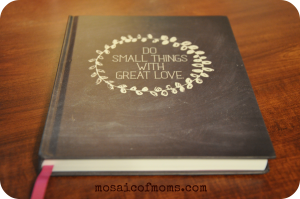 The LORD has shown me that He wants me to: Take care of my home. Love my neighbors. Be a good steward of my pocketbook. Change those training pants (over and over and over). Love on my children. Plan for the preschoolers. Pray for the bible study members.
And continue to fulfill my calling to write. Be obedient. He wants me to trust that my efforts in blogging have a bigger purpose than I can ever imagine.
He wants me to know that even though I may never see it, my small life is a part of the big picture.  Like a mosaic…
Isn't that what makes a mosaic so beautiful? All the small pieces fitting together for the greater good of the overall vision.
If you are feeling insignificant today, take heart. Your obedience will be honored. Your faithfulness in the little things will reap a reward. You have a purpose. We serve a big God with a grand plan, and He has chosen us to be a part of it. Keep taking your small offerings to the altar; In turn He will transform them into huge blessings for many.
Blessing,
Jen
Link-Up with: Holly Barret on Testimony Tuesday, Holley Gerth on Coffee For Your Heart, Simply Beth on Three Word Wednesday, Jennifer Dukes Lee on #TellHisStory, Rebekah A. Huges on Words of Life, Woman2Woman

Because my audience has changed since my time over at Mosaic of Moms, I decided to repost some of my favorite devotional pieces I wrote for that project.  This article was adapted from a post originally published on Mosaic of Moms on September 9, 2013.  All rights reserved by Jennifer Mullen.