"Give us today our daily bread." Matthew 6:11
It is morning. I am checking off tasks on my morning routine "to do" list.
Shower. Check.
Dress kids. Check.
Start breakfast. Toast in the toaster oven. Check and check.
Fill sippys. Check.
Say our goodbyes to Daddy as he heads out the door for work. Check.
Empty dishwasher. Fill dishwasher. Check and check.
We are running late. Today, time is against me. In the background I hear the fast paced tick, tick, tick of the toaster oven and my mind spirals….
Have I remembered everyone on the Christmas list? Tick, tick, tick.
Am I going to stay in budget? Tick, tick, tick.
Are we going to get to school on time? Tick, tick, tick.
Speaking of school, I forgot to put my daughter's teachers on the Christmas shopping list. Tick, tick, tick.
Hummm…there goes the tight budget. Tick, tick, tick.
What am I going to get my husband? What is he going to get me? Tick, tick, tick.
Can't we just skip Christmas and pay some bills?
TICK…TICK..TICK…DING!
And the toast is burnt!
Time is up and we have to go to school. Load up the kids. Grab a Pop Tart. Eat on the way.
In the back of my mind the persistent ticking continues…
TICK…TICK…TICK…
The LORD gently reminds me, "Come to me, all you who are weary and burdened, and I will give you rest." (Matthew 11:28.)
That sounds nice, Father, but I have too much to do to rest. Let me tell you about it. I have the blog. I have to do my bible study. I have to consider what is going on next year. Will I go back to work? What about our second car that won't start? Gotta get that fixed. And what about my family. It is Christmas. I have all these traditions that I want to put in place. I have Pinboards that I want to try out.
TICK…TICK…TICK…
He whispers, "Take my yoke upon you and learn from me." (Matthew 11:29a)
The choice is mine. Am I going to continue to plow through my day on my own, or am I going to take upon His yoke?
Truth be told, this is my morning every morning. The worries change, but the Father is consistent He tries to speak peace into my wearied mind. Some days I yield. Most days I ignore. What do I end up with? Burnt toast! Figuratively speaking that is.
I get so caught up in all my worries of my life and circumstances that I ignore the things that are meant to nourish. We have been taught to pray, "Give us this day our daily bread", but we fail to realize what we are really requesting, what we are really needing, is our daily portion of Jesus not grain. The Bread of Life has given Himself to me, and I squander that gift. I settle for the less than satisfying fruits of this world.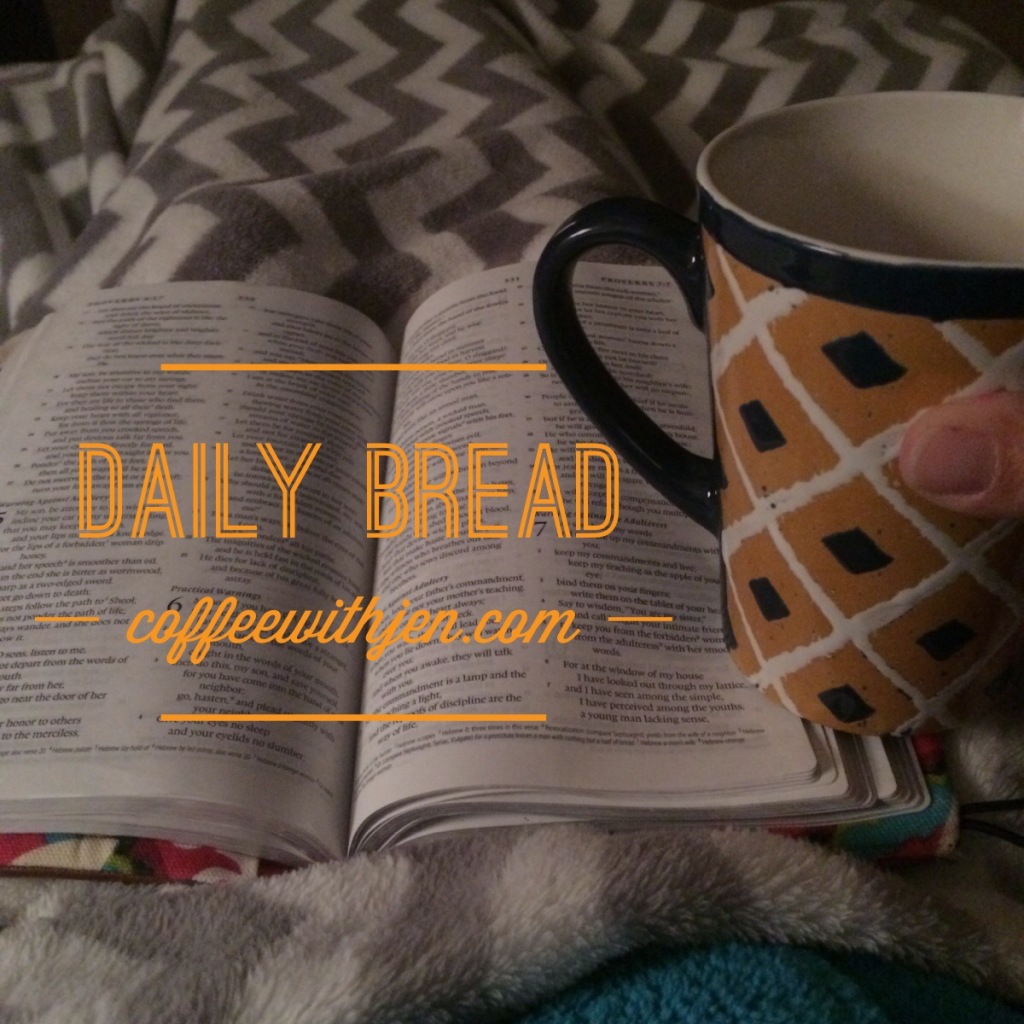 It is my goal to always be real with you, my sweet sisters. I daily struggle with the worries of this world. I am easily distracted by the tactics of the enemy. I say all of this to encourage you and for you to know that you are not alone. We are given a choice each day to take upon the burdens of this world or to cast those burdens upon the LORD. (Psalm 55:22)
We are given a choice, sisters. He leaves it up to us. What a gracious God we serve!
Blessings,
Jen
Because my audience has changed since my time over at Mosaic of Moms, I decided to repost some of my favorite devotional pieces I wrote for that project.  This article was originally published on Mosaic of Moms December 12, 2012.
Linking up with Holly Barrett, Kelly Balarie, Meredith Bernard, Jennifer Dukes Lee, The Weekend Brew, and Holley Gerth.