I really don't like it when bloggers only put their amazing superwomen faces on and act like everything is perfect.  So in effort to keep-it-real, here is a true story that happened in my house yesterday:
I have been battling a cold so I decided to call in sick.  After dropping my daughter off at school, my son and I returned home to rest. As I was relaxing in the recliner next to my sweet boy, I posted this status:   

Isn't that just precious?  I mean it just sounds like I was living in the moment.  Breathing it all in.  Ann Voskamp would be so proud!
Then I began to look around.  THE MESS!  OH MY, THE MESS!  Momma had been in bed for two days.  My husband is amazing, but he has his limits.  I had to get to work!
My son was watching me move room to room frantically, never finishing a task.  He asked questions like: "What doing, Mom?" "Why cleaning that?"  "Can I wipe something?" Sweet boy.  He just wanted to help.  That should have been the first clue. I had cleaned the kids' bathroom and moved on to the master bathroom.  I heard the kids' toilet flush.  Second clue. Then flush again. Third clue.  I hollered to him, "Hey, Buddy! Did you go potty?" SILENCE!  Fourth clue.
Suspicion set in…
I slowly walked out of my bathroom preparing myself for what I would find.  OH MY WORD!  My son had a wet wash cloth (not just wet…drenched and dripping) and he was washing the hallway walls with it.  (Let me just add that we have flat paint.  Who in their right mind has flat paint?  The previous owners did not have children!)  The carpet was soaked.  I calmly said, "We don't wash the walls."  To which he relied, "Oh.  We don't?  But I used the water from there." Pointing to the toilet.  My germ-a-phobic heart skipped a beat! I even saw stars for a moment.  I looked in the toilet and there was another wash cloth in there.
This was the point that I knew I had arrived as a mother.  I stuck my hand right in there and got it without blinking.  Seriously, who am I?
As I was giving my son his second bath of the day (potty training necessitated bath number one), I thought of my status from few hours earlier and thought, "Praise God THESE days are numbered!"
Having kids is a commitment.  Like wedding vows we love our kids "for better or for worse".  Our unwavering faithfulness is what they need in this crazy world we live in.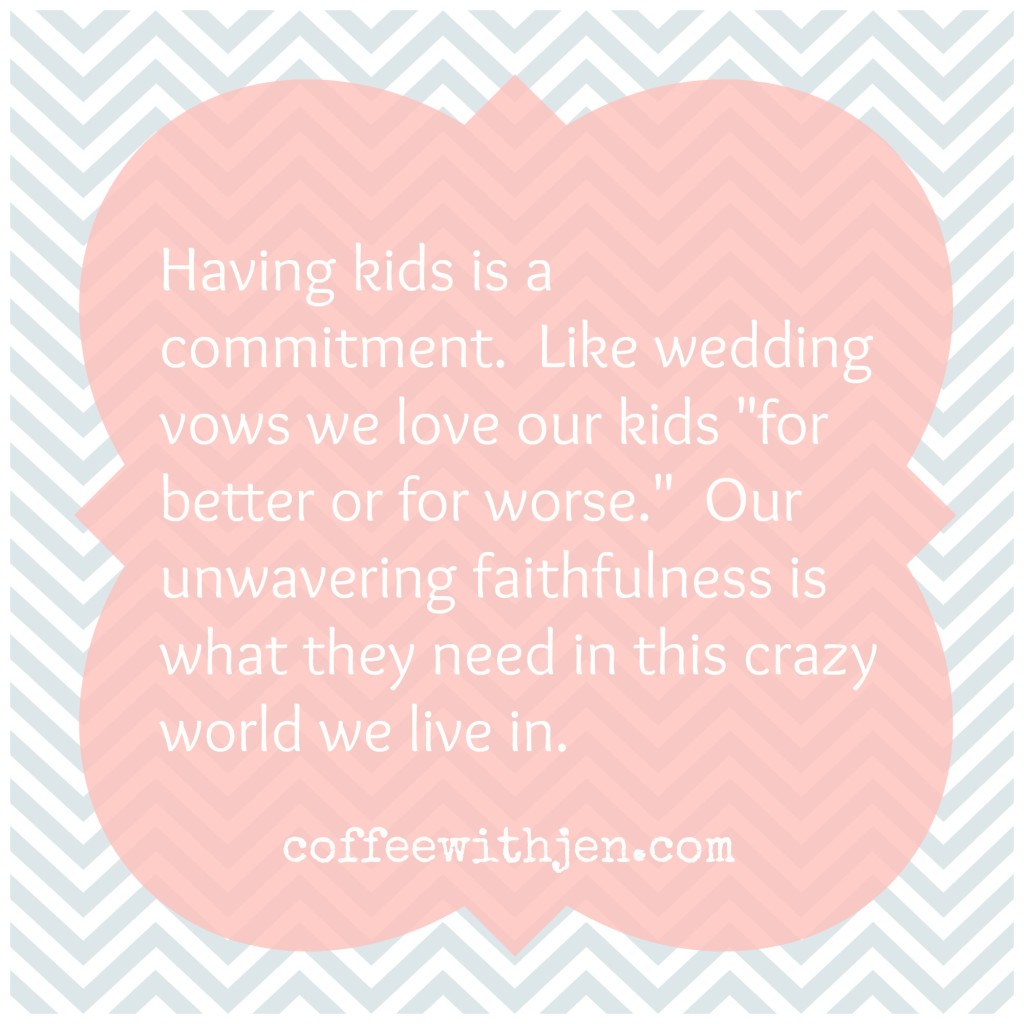 Do you have a mommy mess-up story you want to share?  For real…Make me feel better!
(P.S….I had to mop the bathroom floor three times yesterday.)