Last time we had coffee, I told you about what my husband and I are doing for Advent.  Some have asked me what we are doing with our kids for Advent.  Well, we have fun of course!  I mean we are getting ready to celebrate a big birthday, right?  It doesn't have to be all somber and quiet reflection!  It's a party!
In my house we like to have fun!  Before my daughter started Kindergarten, we would let the kids stay up and we would be out late every night.  We have had some adjustments this year, but we are not letting that affect our Christmas countdown!  Right now (at 4:00 pm) my kids are napping because we have a super fun, late-night activity planned.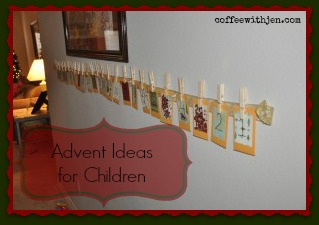 We have a countdown calendar hanging in the hallway with envelopes numbered 1-25.  In each envelope we have a scripture card.  On the back of each card is written a fun activity.  I am using these scripture cards which you can download for free on Happy Home Fairy.
To see a list of advent ideas that I have used in the past and a DIY on how to make our hallway countdown calendar, check out my article on Mosaic of Moms.  Throughout the month, I will list our activities with pictures of what we do this year.   So check back with us.  In the meantime, don't forget to sign up for our giveaway going on right now for an Advent devotional book!
So tell me…what fun family activities do you do during the Advent season?