I have really been intrigued by the debate stirred up by Candace Cameron Bure's (yes…D.J. Tanner from Full House) comments about submission in her new book Balancing It All.  I have not read the book, but I agree with her views on marriage that has stirred all the buzz in the media about women's rights.
In U.S. Weekly, Bure was defended herself by saying,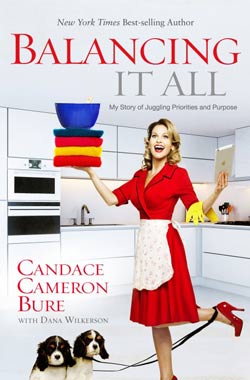 "In the biblical sense, submitting to my husband just means allowing my husband to lead his family because he loves our family and [is] making the best decisions for our family that he can," she explained further. Her so-called "submission," she said, is really just a choice "to respect those decisions and to encourage him to be the best man and father that he can possibly be to our family."
These thoughts are biblically sound, and they caused an uproar in the media.  I saw clips from The View, CNN, Headline News, and FOX that were not favorable towards this biblical model for the family.
I want to challenge you, Friend, as a woman of God to seek the His plan for marriage.  Don't listen to the world's wisdom on this.  Seek out what God's word has to say.
Submission can be a beautiful thing is done in a biblical sense.
In the same article, Bure went on to say in reference to her naysayers:
"Their eyes are not seeking the biblical blueprint of marriage, so I don't expect them to understand, and I do expect that they're going to be upset over it," the mom of three added of her naysayers, "because they're thinking about it from a different world view than I am."
So what is the biblical blueprint that she was talking about?  I have been listening to a series of sermons from the Austin Stone Community Church that address this.  It is worth your time to sit down with your spouse and listen to these sermons.
We can no longer listen to what the world says.  He have to turn to His Word and His Truth.
Thank you, Candace Cameron Bure for being a light in this dark world.
Topic: The Biblical Structure of the Family
Austin Stone Community Church