Ok, I am going to try Five Minute Friday again.  This is so challenging, yet refreshing as a writer.  One word prompt.  Five minutes to write.
Setting timer. Go.
This week the word is: Visit.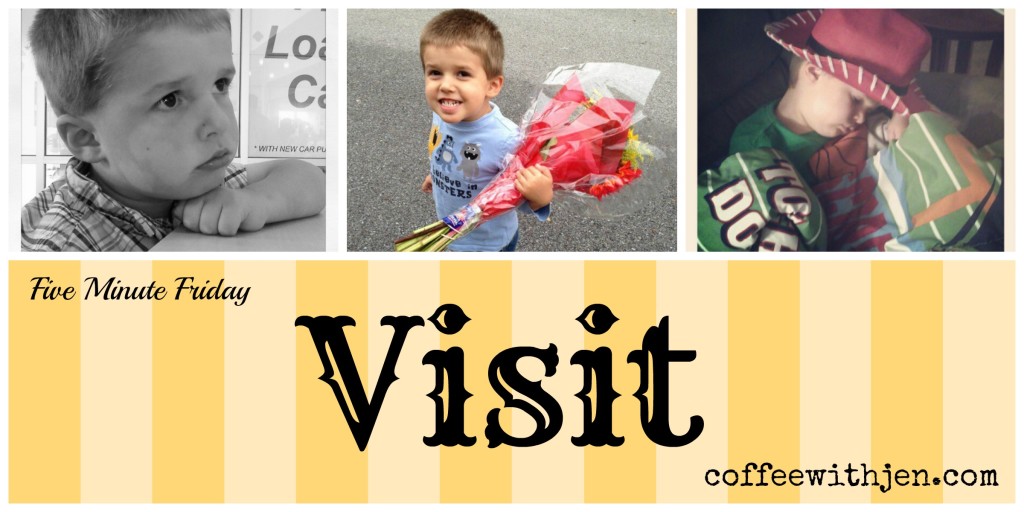 Each night I have a visitor.  It is always for different reasons, but at least he is consistent.
"Mommy, I am cold."
"Mommy, there is a bat in my room." (Nightmare…we don't really have bats.)
"Mommy, I came to tell you I love you."
"Mommy, I sleep with you?"
Most nights I escort him back to bed.  Tuck him in bed.  But some nights, like last night, I am too tired and welcome him with open arms.
These visits are uncomfortable.  We only have a queen bed.  My husband and I are big people.  How does a three-year-old require more space than two grown adults?  These nights are sleepless for me.  These nights are numbered therefore cherished.
I know it won't be long that he will outgrow the desire to be snuggled, but I know these late night (early morning) visits will foster a sense of welcoming.  He will always be welcomed for a visit when he needs me.
Stop.