My husband found me in the closet on the floor—crying.  It is not uncommon…really…if I am honest.  I can be dramatic.  This night I was spent.  One too many things had went wrong with the day.
He walked in.  And then he walked out.  Then he walked in and sat beside me in silence.(So thankful he loves me.)
Finally I said, "Everything is broken."
We all have our lists…don't we?
The heater goes out on the coldest day of the year…
The car gets a flat…
The ice machine is possessed and fills the ENTIRE freezer with ice…
Struggles in relationships…
Physical health…
An on and on.
(Not to mention those who endured natural disaster, severe poverty, religious persecution, and the other really big stuff.)
Is there ever a moment when it will all be right?  Will we go a month without added burden of some emergency expense?
I had been dwelling on this since the new year.  Struggling with financial burdens of an aging house, an aging car, and an aging body.
I had lost hope.  I was yearning for perfection.
But there is hope…
Last weekend at church one of my teaching Pastors preached on the Authority of Christ.*
He said some things in a new way than I ever heard and in that sermon I realized that everything I have been mourning has been a direct result of the fall.
He said, "Most of our life is daily management of sin and the effects of the fall…Life is one long toil against the effects of the fall." (Mark Schatzman)
As I meditated on these thoughts this week I was reminded of these two scriptures:
Therefore we do not lose heart. Though outwardly we are wasting away, yet inwardly we are being renewed day by day.  For our light and momentary troubles are achieving for us an eternal glory that far outweighs them all.  So we fix our eyes not on what is seen, but on what is unseen, since what is seen is temporary, but what is unseen is eternal.  2 Corinthians 4:16-18 NIV

For we know that even the things of nature, like animals and plants, suffer in sickness and death as they await this great event. And even we Christians, although we have the Holy Spirit within us as a foretaste of future glory, also groan to be released from pain and suffering. We, too, wait anxiously for that day when God will give us our full rights as his children, including the new bodies he has promised us—bodies that will never be sick again and will never die.  Romans 8:22-23 Living Translation
So this week, Dear Friend, I have been blessed to have my eyes opened to a truth I have known my whole life, but have awakened to a deeper meaning.  Because of all the brokenness I endure, my spirit aches and groans; it does not ache and groan for a dream that will never be realized.  Each time it aches I have hope.  I now know that I am groaning for what is to come.  I no longer have to live in disappointment and discouragement because my expectations are no longer for perfection on this side of life.  Perfection will come, Friend.  It will. And that is a glorious thing to hope in!
*Mark Schatzman The Authority of the King 1/25/14 Series: The Upside Down King (The part that really spoke to me was starting around minute 21:00.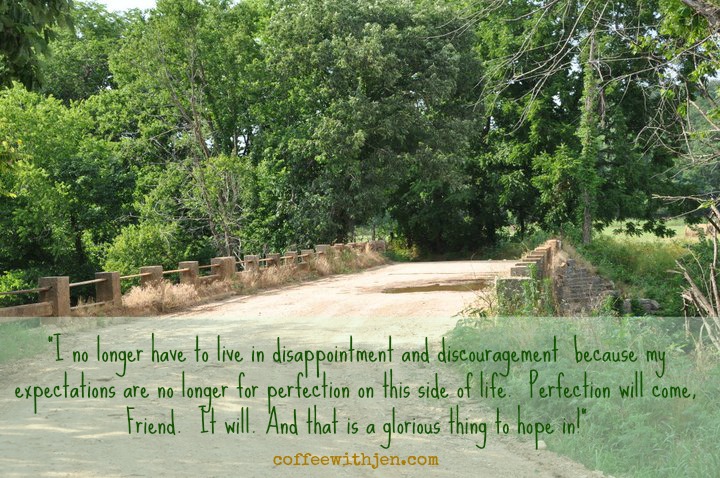 Link Up With