By faith Abraham, when called to go to a place he would later receive as his inheritance, obeyed and went, even though he did not know where he was going. Hebrews 11:8
Have you ever felt as though you have had a calling on your life, but not sure how to execute it?
Have you been standing still because you cannot fathom how it will all work out?
Do the questions of the unknown paralyze you?
I think about Abraham. He too must have felt that desperation when God called him to "go". (Genesis 12)
The conversation may have went something like this:
God: Go.
Abraham: Go where?
God: Away from everything you have ever known to a new land I will give you.
Abraham: I have no idea how to get there.
God: I will show you.
So Abraham had a choice: To walk in obedience or to stand in disobedience.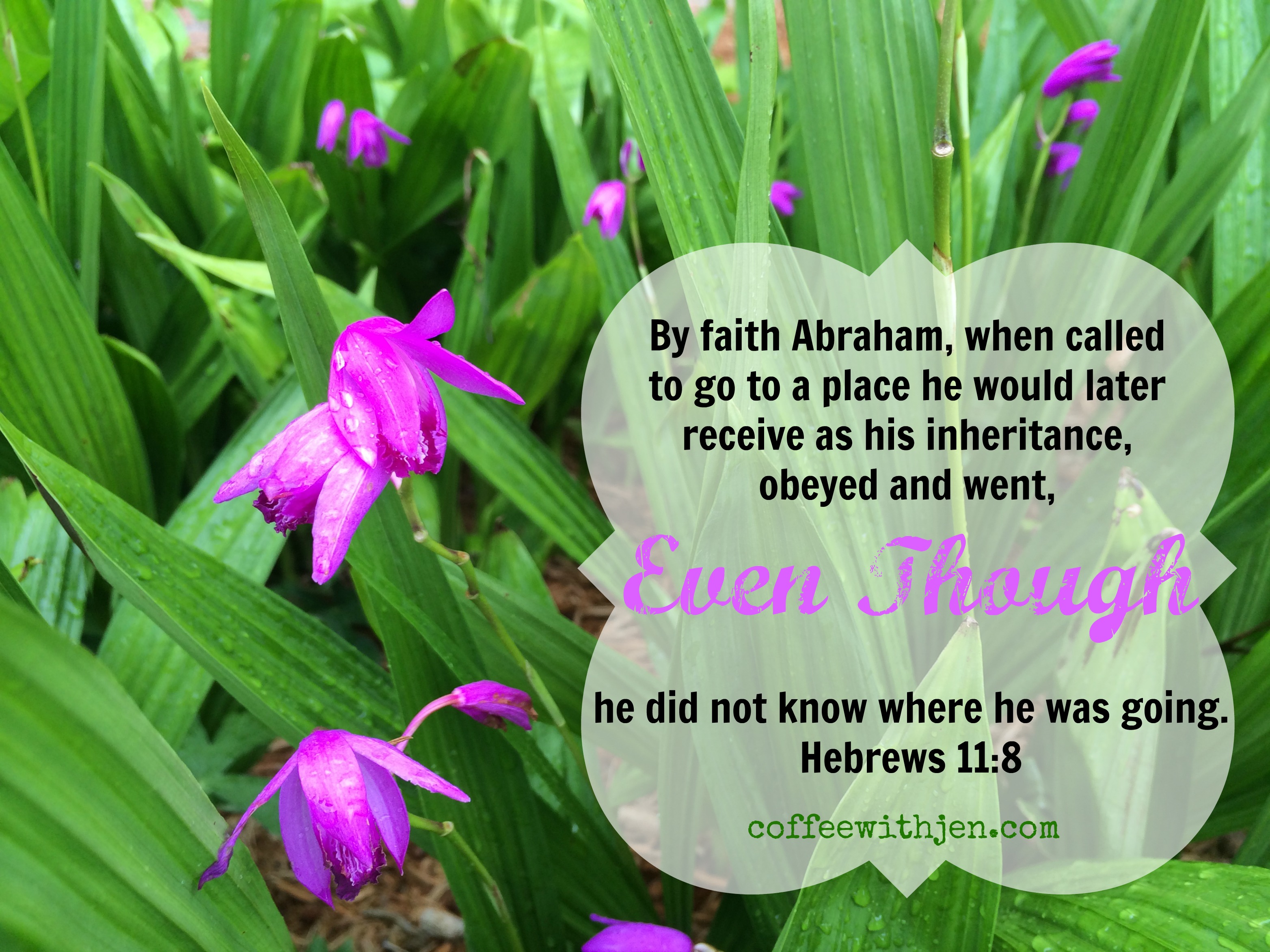 Hebrews 11 is known as the faith chapter. In it we gain a deeper understanding for what Abraham did as he took the first step. It says that he:
obeyed…
went…
lived in tents as a stranger in a foreign land…
trusted in God to fulfill what He had called him to do….
EVEN THOUGH!
Even though he did not know where he was going.
Even though it did not make sense.
Even though he would never see the full picture.
Even though he "did not receive the things promised; (he) only saw them and welcomed them from a distance." (Hebrews 11:13)
So what has God called you to do? How have you responded?
Are you willing to take that first step of obedience…even though?
Are you will to feel out-of-place in uncharted territory…even though?
Are you willing to trust God to fulfill His purpose in you…even though?
Your obedience sets into motion the fulfillment. But, like the heroes of faith, you may not see the fulfillment. "…none of them received what had been promised, since God had planned something better for us so that only together with us would they be made perfect." (Hebrews 11:39-40)
So…EVEN THOUGH…are you going to step out in faith? Your work is a part of a grand scheme. Are you going to join in the effort? It is, after all, your purpose. "For we are God's handiwork, created in Christ Jesus to do good works, which God prepared in advance for us to do." (Ephesians 2:10) He created you with a specific plan.
His plan is not that you experience a life of great adventure for your own enjoyment. It is that you experience a life in His hand for His glorification. Whether it be seasons of mundane routine (diaper after diaper) or it be a whirlwind adventure of worldwide travel or both, your obedience to do what He called you to do is about so much more than you! It is
…. so that God be glorified.
…so that you can reflect on the path and testify to His sustaining power.
…so that others can peer into your life and KNOW that God is!
…so that those around you will see Christ through you and be redeemed.
I love you, dear sister. Do not be afraid of the journey. He is just waiting for you to help show the world His love. Take the first step. The journey is the thing!
Because my audience has changed since my time over at Mosaic of Moms, I decided to repost some of my favorite devotional pieces I wrote for that project.  This article was originally published on Mosaic of Moms on September 3, 2012. 
Linking Up With: