So I have not been participating in Five Minute Fridays lately simply because I have been exhausted.  However, the prompt this week really spoke to me.  So I finally found few minutes on Sunday morning to formulate my thoughts.  Better late than never. Five minutes of free write begins now:
WAIT
When I was in college we had chapel Monday-Friday. The first chapel of the year President Burks would speak about "camaraderie" and his love for Eagles.  And then he would quote this verse:
"But those who trust in the LORD will find new strength. They will soar high on wings like eagles. They will run and not grow weary. They will walk and not faint." Isaiah 41:31.
In my heart I secretly have despised that verse!
You see when I was seven-years-old, I had a stroke.  I lost the use of my entire right-side.  It was a week before I moved my leg and a month before I moved my arm.  It has been one of my biggest life struggles.  I have learned to compensate.
Some people are shocked when I tell them because they never have noticed…until I get exhausted.  Then it shows up so much clearer.
I have endured years of wear and tear on my body, because it just won't cooperate.  My back and my left side has taken the burden of my lack of strength on the opposite side.   Most days I just deal with it, but some days, if I am completely honest, it is too much.
Not only have a struggled with the obvious physical health, but I have also struggled with mental health issues as well. Individuals who have left-brained strokes are more likely to have depression and anxiety.  Depression and anxiety are well known acquaintances of mine.  We go way back.  When I get too busy and overwhelmed, these unwelcomed visitors make themselves at home.  I spent most of my college years and then again in the early years of parenting in a deep depression.  I honestly don't remember any phase of my life that I haven't struggled with anxiety.
It is hard for me to accept these promises of healing because I have accepted this as my "thorn in my flesh" and that I only "run and not grow faint" when I get to heaven…when everything will be as it was meant to be.
But I have been hearing whispers of hope in hymns and scripture lately. My spirit has been encouraged by these following words:
"When we have exhausted our store of endurance, When our strength has failed ere the day is half done, When we reach the end of our hoarded resources Our Father's full giving is only begun." –He Giveth More Grace | Annie J. Flint
"And if the Spirit of him who raised Jesus from the dead is living in you, he who raised Christ from the dead will also give life to your mortal bodies because of his Spirit who lives in you." Romans 8:11
So I wait…
May only the LORD be glorified.
I love you, sweet friend!  What are you waiting on the LORD for today?
Disclaimer- I do not write this to seek pity.  Trust me, that is the last thing I want….well that and your medical advise.  Trust me, if you have a suggestion, I have already tried it.  I just believe in being completely real and transparent when it comes to everything I write in this space.  I strive to be authentic in the ups and the downs.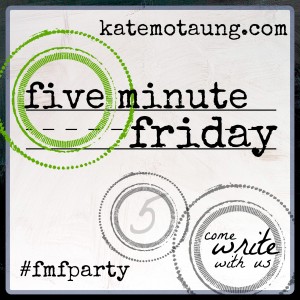 If you are a blogger and would like to join in the community of Five Minute Friday writers, head over here to get all the info.  This community has been the biggest blessing to me as a blogger and as a woman in Christ.  These are my people!