Before becoming a mom, I was a teacher. I have taught in some capacity ever since, but not full-time. I have professionally taught all levels from preschool through adult education. My favorite two ages to teach are fourth and fifth grade and adults.
In fourth and fifth  grade, the kids still think you are brilliant and are worth listening to. They have a new sense of independence with enough caution to keep them from making incredibility ridiculous decisions. Their abstract thinking is developing so they can start to have deeper conversations, and you really get a sense of who that are and will become.
Then when they hit the sixth grade mark…they believe that you are the dumbest person on Earth and all caution is out the window!  They are at a developmental age where they want to figure life out on their own and they have to learn from their own mistakes.  There is a shift from parents and teachers being the most influential individuals to peers. The role of a teacher, in their minds, becomes more of a task master. They come back around in adulthood though. I promise! No worries!
My daughter is in fourth grade right now. This is my golden hour. For the first time in her life she is interested in me as a person, not just as a mom. It fascinates her that I have a blog with a "following" and that people actually "like and comment" on my content.  She asks me advice about clothes and hair.  She hangs on my every word. I want to make most of every opportunity during this season.  The truths I instill in her now will guide her as she hits adolescence.  I pray for wisdom in parenting her.  I seek out resources to help me parent her well.
The following are resources that I have either found to be helpful or have been recommended to me and I have purchased to guide me through this season. (There are no affiliate links and this is not a paid advertisement. I am just sharing what I truly would as a friend.)
1.) The Care & Keeping of You by American Girl.  A dear friend who is seasoned mom and Children's Minister at a local church recommended these books to me when I felt like it was time to start educating my daughter about her own body. These books (also available for boys) are very good introductions into basic hygiene and anatomy of the individual and various changes the body goes through.  They are divided by various ages in order to provide information that is age appropriate for your child when she is ready.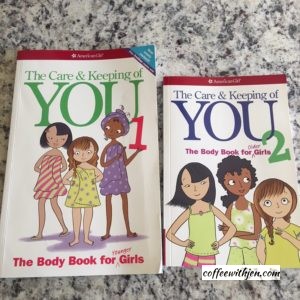 2.) God's Design for Sex Series and Good Pictures Bad Pictures These books were recommended to me by more than one trusted and seasoned mom friends.  They have been very helpful in starting discussions about God's plan for marriage and sex.  They are divided by age as well.  I have read through the first book with both children and book two with my nine-year-old.  Each book is written for the various age groups and addresses only what is appropriate for their various developmental stages.
Due to the increase of technology use, pornography is becoming an issue earlier and earlier. Filters on your computers and devices are essential but not always foolproof.  According to an article from Focus of the Family, the average age a child is first exposed to pornography is now EIGHT YEARS OLD!  The book Good Pictures Bad Pictures  is a great resource for parents of young children.  It teaches about the "thinking brain" and the "feeling brain"  and uses kid-friendly language of how to avoid viewing these images and how to make a plan if you stumble upon them.  Proactive resources like this start you off as the trusted expert with your children and help avoid self-shaming when they are exposed to things of which they have no prior knowledge.  The conversation has already begun and you are in the driver's seat.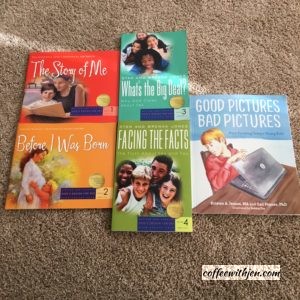 3.) Between Us and Can You Relate by Vicki Courtney I received these two mother-daughter devotionals in the mail last week. My daughter and I are so excited about them.  We flipped through each one.  My daughter decided to start with the Between Us book first because Can You Relate not only talks about how to navigate relationships with your parents and friends but boys too…yuck!  Boys are still gross at this age! Whew! Maybe next year.  Each book is geared for girls 9-12 and are intended for them to be worked through by both mother and daughter together.  They are full of scriptures and Biblical truths that are relevant to tweens!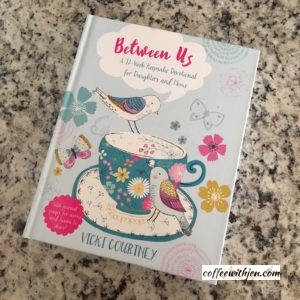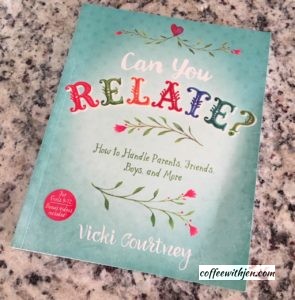 4.) 5 Conversations You Must Have With Your Daughter by Vicki Courtney This book is for you moms.  This resource is a scaffold for you to start important conversations with your daughter about becoming the woman God has created her to become. I really look forward to diving in deeper into this text and utilizing it!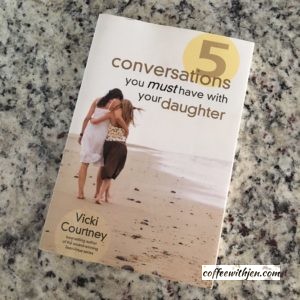 5.) Why Motherhood Matters: An Invitation to Purposeful Parenting by September McCarthy founder of Raising Generations Today I am currently hosting a book study on this book.  Twice a month I meet with two moms… one who has been doing this mom gig for 25ish years and another who has a preschooler.  I am right in the middle.  It is so wonderful to not only have an inspiring text like this one to read, but to draw from the experiences of other moms.  I found all these resources from seasoned moms who have come alongside me to help with developing wisdom in parenting.  As September says in her book, "We should never have to do motherhood alone."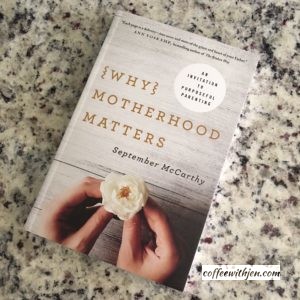 Now it's your turn!  What resources have you found useful in parenting tween girls or in general?  I would love to hear from you!
Pin For Later: