It was Kid's night at Flying Burrito.  Two free kids meals with the purchase of one adult entrée.  My family of four can eat for less than $10!  Naturally the restaurant was bursting at the seams with young families.  Really…how can you pass up such a great deal?
As I was standing in line to order, something about a sweet family nearby caught my eye. The dad was on duty; single-handedly bottle feeding a newborn and assisting three other young children with their dinners.  The mom, however, hadn't touched her food.  In fact, she wasn't doing much at all.  She just sat very still…quietly sobbing.  I pointed them out to my husband and said "That poor momma.  Bless her!"  He said "You don't even know why she is crying."  I said "Of course I do!  I've been there!."
When the family started to clear the table and gather their things, I was compelled to walk over to the table and introduced myself to the mom.  She dried her eyes and changed her demeanor as if to put back on her brave face.  I said "I know it is hard.  It WILL get easier.  You are doing great."  She broke down, saying "It has been a hard two weeks."  I replied "Of course it has!  You have a newborn and three small children.  Motherhood is not for the faint-of-heart.  Now I am going to give you a hug, because that is what you need."  In that embrace, she was empowered because it reminded her that she was not alone.
I'm not telling you this to brag about some good deed of the day.  You see, it is because of MOPS (Mothers of PreSchoolers) that I felt equipped to provide a small gesture of support to a family that needed it.
Her husband turned and gave me a high-five.  He simply said "Thanks.  That was awesome!"  How familiar was the look in his eyes!  The desperation of a husband who just wants to fix the problem.  No matter how great of a husband we may have, sometimes they just don't have the words.  Sometimes we just need to be around other women who "get it".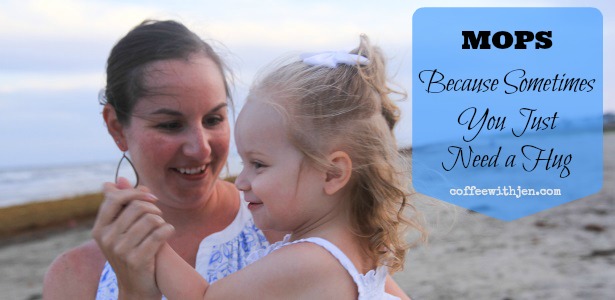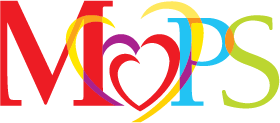 That is what makes MOPS so great.  You are surrounded by other women who get it. They know what it's like to spend the entire night alternating between nursing a newborn and cleaning up puke.  They get that life is messy and sometimes you don't keep your cool.  They get that you don't have the energy or even the desire to do all the Pinterest activities you scouted out before the baby was born.  You are not alone!
When I joined MOPS, I was so green as a mother.  I had a nine month old baby and postpartum depression.  MOPS was like that hug.  It empowered and encouraged me.  After that first year as a member, I began to develop leadership and ministry skills through serving on the steering team.  I learned how to give those hugs instead of just receiving them.
If you are looking for a group to encourage you through the early stages of motherhood, please consider MOPS. There are over 4,000 MOPS groups that meet worldwide.  To find one near you click here. If there is not one near you, consider chartering one with your church.  You could never imagine the ripple effect having/being in a MOPS group could have on yourself, your church, your community, and your world.  Like their tagline says: "Better Moms Make a Better World!"
For more information visit MOPS International.
The theme this year is: Be You, Bravely

Link-Up with: Holly Barret on Testimony Tuesday, Holley Gerth on Coffee For Your Heart, Simply Beth on Three Word Wednesday, Jennifer Dukes Lee on #TellHisStory, Rebekah A. Huges on Words of Life, Woman2Woman