Don't let anyone look down on you because you are young, but set an example for the believers in speech, in conduct, in love, in faith and in purity. 1 Timothy 4:12
Last summer my daughter turned down every opportunity to go down a water slide. She allowed the fear of the unknown to hold her back. I was so shocked and proud when she had her first chance to try this summer. She boldly marched up the two flights of stairs and made her decent on the winding slide. I have never seen such bridled triumph true to her stoic personality. She repeatedly traveled down that slide with confidence!
The next time we went to the pool there was a misunderstanding. They failed to measure her and put the wrong armband on her wrist. When we went into the pool area, she again marched boldly up to the two flights of stairs. She was stopped dead in her tracks by the screeching blow of the lifeguard's whistle. She was told, "You are not tall enough. You are too little."
She was crushed. I quickly intervened for her and explained that she is in fact 48 inches tall and that she has gone down this slide many times before. The lifeguard apologized and told me how to get the appropriate bracelet. We got the yellow bracelet, but my daughter kept crying out: "I can't go. They said I am too little." She argued and argued with me. She did eventually go down after I agreed to go with her. It took time to build her confidence once again!
My heart ached for her with a familiar pang.
How many times have I listened to others who told me I wasn't enough? How many times have I allowed the Enemy to whisper his lies over me?
…not experienced enough.
…not educated enough.
…not spiritual enough.
…not talented enough.
…not pretty enough.
…not skinny enough.
Who on Earth am I allowing to do all this measuring?
The Accuser! He has one desire…that is for us to forget who we are!  He wants to slap labels on us that distract us from the true reality: WE ARE THE CHILDREN OF GOD!
When you allow the doubts to take over, it is hard to hear the truth.  That is why, sisters, we must be grounded in the WORD which will ground us in our identity.  We must "demolish arguments and every pretension that sets itself up against the knowledge of God, and we take captive every thought to make it obedient to Christ." (2 Corinthians 10:5)
Every time you hear a lie, search the scripture to find the truth.  Just as my daughter had to stop repeating the lie to herself and listen to my voice, you will never know the truth until you seek the LORD's perspective and claim it as victory. 
You are ENOUGH…because of HIM.  His redemptive power to overcome weakness is what makes you enough.
And one more thing…
I have a little secret for you…
God chooses those who are not enough on their own to do great things for His glory.  If you feel like you are not enough…take courage…the bible is full of people just like you.
Blessings to you, Sweet Friend!
Jen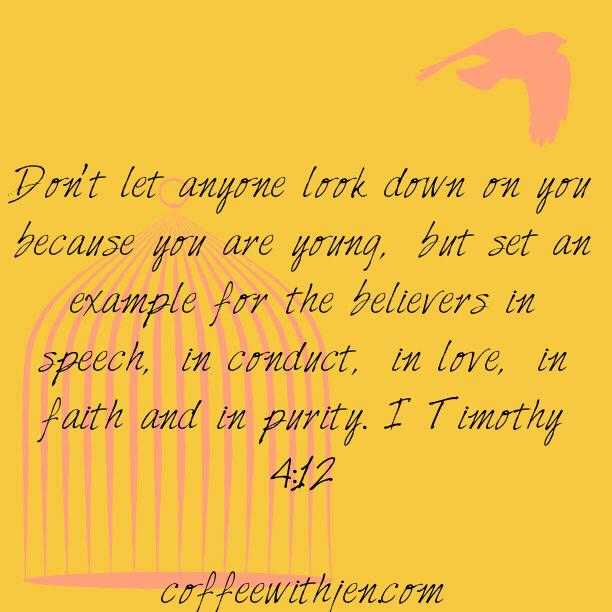 Link-Up with: Holly Barret on Testimony Tuesday, Holley Gerth on Coffee For Your Heart, Simply Beth on Three Word Wednesday, Jennifer Dukes Lee on #TellHisStory, Rebekah A. Huges on Words of Life, Woman2Woman