I know it is almost Spring Break, but it's not too late to talk about New Year's…is it?
Over the past few years, instead of selecting New Year's resolutions which are dumped by the end of January, I have joined the growing trend of choosing a One Word focus for the year.  Actually, I have found that it is the other way around…the word chooses me.  The words become a theme for the LORD to shape and mold me.
Some of my past words have been blessed, yield, and hope.  By the end of each year these words have had such deeper meanings.  I learned that I was in fact blessed, but I was blessed to be a blessing to others.  I learned that I had to yield to the LORD so that my efforts for the kingdom would yield healthier fruit.  And I learned that hope is not a wish; it is something that we should actively be anticipating….and "that hope does not disappoint"!
In one of my latest posts, I divulged to you about having to come to terms with the fact that I have a chronic illness.  I realized the only way I would be able to find joy amidst the suffering is to hold on to hope.  Just as hope keeps me tethered to the anchor, so does my weaknesses.
My struggle with anxiety and OCD causes me to face my fears constantly.  Because of my stroke and because I have a disorder, these fear issues will never go away.  Yes, God is capable of completely healing me, just as he is capable of completely restoring a cut off limb, but the likelihood of that happening is slim.  This is not a lack of faith on my part. I, like Paul, have prayed since childhood to have this "thorn removed". And like Paul, His answer is "My grace is sufficient for you."
The reality is that we live in a broken world.
In my case…
The miracle is not the healing.
The miracle is seeing His strength through my weakness.
The miracle is seeing beauty in the broken.
As I searched for hope and for a Biblical way to approach my fears, I learned that I had to fix my mind on "whatever is true, whatever is noble, whatever is right, whatever is pure, whatever is lovely, whatever is admirable…". (Philippians 4:8)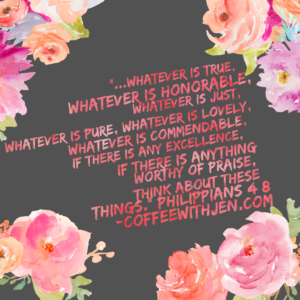 (Who knew that cognitive therapy and mindfulness are a Biblical principles? Wink. Wink.)
That is why I hashtag my Instagram pictures with #1000gifts and #TheSmallLife.  It is my was of focusing on the good, counting my blessings, and seeking what is lovely.
So this year I chose the word "lovely" as my One Word.
Soon after I choosing "lovely" as my One Word, I stumbled upon this sweet little book by Annie F. Downs called Looking For Lovely.  I have to be honest with you…If I would write a book it would pretty much be this book.  She speaks my language of blessing counting and seeing beauty in the simple.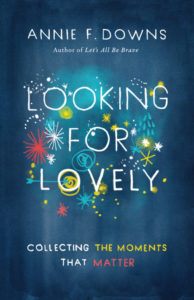 I stopped dead in my tracks when I read this sentence in her book:
"There is a correlation, I'm finding, between beauty and perseverance.  It feels like beauty might be knots in the rope you are climbing." (pg. 50)
What?!?
Remember in my recent post about how rope and hope are the same word in Hebrew?  Yes!  That is it!  God plants these seeds of beauty throughout our lives as encouragement…to help you to hold on to hope!  He wants us to see them as gifts of strength from The Creator!
In her concluding chapter, Downs had this revelation:
"And as I'm collecting these moments that matter, I'm actually just seeing more of Him. Because in the end that's what it is all about.  When you find Jesus, you have found lovely.  He is everything we need." (pg. 172)
These trials in life that I have endured…that you have endured… can be discouraging, but if you lean into The Father during these times you will see that he wants give you His strength.
"…we also rejoice in our sufferings, knowing that suffering works perseverance; and perseverance, proven character; and proven character, hope: and hope does not disappoint us, because God's love has been poured out into our hearts through the Holy Spirit who was given to us." Romans 5:3-5 NHET
So this year I will continue my search for lovely, counting my 1000 gifts, and appreciating The Small Life, because it is these things that help us to persevere through this broken world.
Linking up with: Holley Gerth on Coffee for Your Heart